The most common conception of mentoring is a one-on-one relationship between a young, inexperienced mentee and an older, wiser mentor. Traditionally, communicating in mentoring happens in-person, perhaps over lunch or at the mentor's office.
However, effective mentoring is so much more than just one-on-one mentoring. Group mentoring, in which mentors and mentees meet in a group rather than in pairs, is exploding in popularity. While it may challenge some people's mentoring expectations, group mentoring still has a lot to offer to both mentors and mentees.
Downsides of One-on-One Mentoring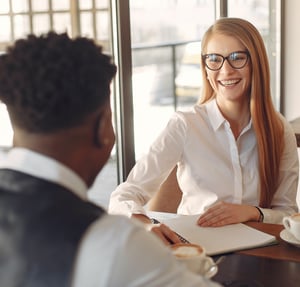 One-on-one mentoring relationships often run into some mentoring challenges. First, a mentoring relationship often depends on the rapport or "chemistry" between the mentor and the mentee. If the relationship is awkward or uncomfortable, the mentee isn't likely to share much or be vulnerable with the mentor, and the success of the relationship will be limited.
Second, everyone isn't always comfortable with one-on-one mentoring. In a survey by Leanin.org, almost 60% of male managers reported that they felt uncomfortable participating in common work activities with women, such as working alone or mentoring. Clearly, this is a barrier for women who need mentoring, particularly if leadership is male-dominated.
Third, in organizations or other groups that are trying to build leadership capacity, there may not be enough people with adequate mentoring skills available to those who need mentoring for leadership. As a result, some potential mentees miss out on important development opportunities.
However, group mentoring can overcome each of these common one-on-one mentoring challenges. In group mentoring, the interpersonal relationship between any one mentor and any one mentee isn't as critical. Further, group mentoring avoids the issue of having two people working and conversing alone together who may not be comfortable doing so, such as older men and younger women. Lastly, group mentoring makes sure that the people who have the mentoring skills are accessible to as many mentees as possible.
Also read: The Benefits of Informal Mentoring vs. Formal Mentoring Programs
What Exactly is Group Mentoring?
To the untrained eye, group mentoring can look a lot like regular classroom training. However, group mentoring is more similar to traditional mentoring in that the mentee is still driving the relationship. Each mentee has their own learning and developmental goals, which may or may not be similar to the other mentees in the group. To help mentees achieve these learning goals, mentors will ask questions, share relevant stories, and complete learning activities. The group mentoring is a confidential, safe space for mentees to share their struggles.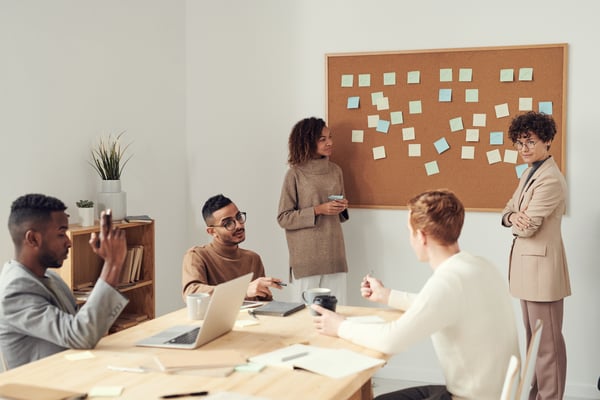 There are multiple types of group mentoring. First, there is team mentoring, in which mentees have similar developmental goals (for example, mentoring for leadership development). These mentees then work with multiple mentors by asking questions, reflecting, and sharing stories. Second, there is peer mentoring, in which mentees act as mentors for one another in a self-directed group. Third, there is facilitated group mentoring, in which a trained outsider acts as a facilitator to ask questions, guide the session, and otherwise support the mentees so that they can focus on their learning goals. To find out more about these specific types, consider group mentor training.
The Benefits of Group Mentoring for Mentors and Mentees
Another difference between classroom training and group mentoring is that in group mentoring, both the mentees and the mentors benefit from the experience. Typically, classroom trainers do not get developmental benefits from classroom training.
A major benefit to mentees is that many feel more comfortable in a group setting rather than one-on-one, taking out some of the intimidation that can come with one-on-one mentoring. Mentees also get multiple perspectives at the same time, as there are different mentors available in the room. This experience can provide mentees with a richer, more complex understanding of various issues. Additionally, group mentoring can accelerate network building for mentees. Not only are mentees able to build relationships with several mentors at once, mentees are able to build relationships with their peers in group mentoring. The camaraderie built within a group mentoring cohort can be very meaningful to mentees.
Mentors can benefit from group mentoring in a number of ways. First, group mentoring helps mentors increase their influence. This can be particularly appealing to busy executives, who want to make the most of their executive mentoring experience. Second, mentors can further develop their communication skills. In a group setting, communicating in mentoring is done best through Socratic questioning, which is an important skill for mentors when mentoring for leadership. Third, mentors are able to better focus on developing mentees, instead of being overly concerned with politics.
How to Get Started with Group Mentoring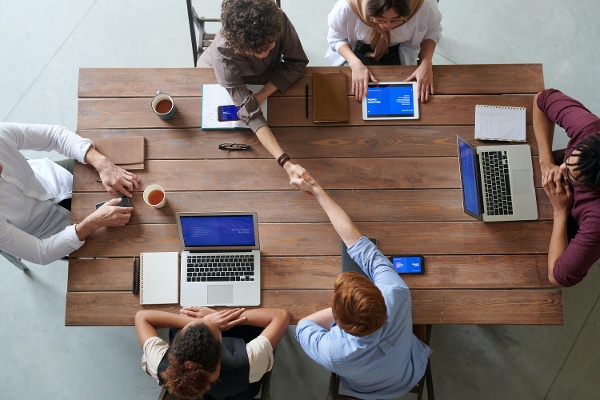 Find out if your organization or industry already has group mentoring. If so, you can join their group or ask if they would be willing to provide guidance for starting your own group mentoring program.
If you're a mentor who is interested in expanding your reach, consider group mentoring training to give you the mentoring skills for working in a group. This type of training can help you avoid some of the common mentoring challenges that people face when starting with group mentoring.
Group mentoring, whether it's mentoring for leadership development, career development, or other purposes, can be an excellent opportunity to grow your skills whether you're a mentor or a mentee. Consider it alongside traditional mentoring opportunities.