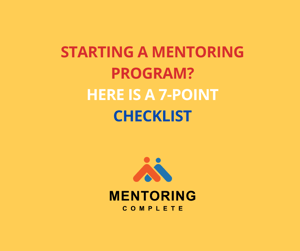 A successful mentoring program can be a boon to your business. However, it must be well thought out and organized to ensure employee development and company growth. Here's a checklist to get you started:
1. What would you like to achieve with a mentoring program at this time?
Have you defined specific challenges you want to address and overcome like employee retention, succession planning, leadership development, workforce productivity, knowledge transfer, diversity & inclusion, onboarding?
2. Have you designated a manager to oversee your program?
Also known as the Mentoring Program Manager, this person is vital to the success of your mentoring program based on his/her role and responsibilities:
Creates & implements the mentoring program
Insures mentors and mentees are trained
Evaluates mentoring program
Expands program as needed
3. Have you developed guidelines for your mentoring program?
For example, consider the mentoring models that might work best for your program.
4. What is your plan for matching mentoring pairs?
Is that a job for your company's program manager? Should mentees and mentors match each other? Or is that a job for the mentoring consulting company?
5. What's your strategy for monitoring mentoring relationships?
Have you considered using an online tool, like MentoringComplete?
6. What about training?
Before starting a mentoring program, it's imperative you provide training to your mentors, mentees, and program managers. It will only enhance the quality of the program and mentoring relationships, whether it's in the classroom or online.
7. What about plans to pilot your mentoring program?
A pilot is highly recommended as it allows you to evaluate your program on a smaller scale and determine what works and what needs to change before expanding it. Check this out for helpful hints on setting up a pilot.
Of course, there are certainly more topics to be covered! Why not sign up for a 1-hour complimentary consultation with our mentoring expert, Rene Petrin, to discuss your company's mentoring objectives?
---
Need to create a Pilot Mentoring Program? We're happy to help you!