Even a decade earlier, employee wellbeing was not an important thing in the workplace. They were not a priority for many employers. But today, the work environment has changed. Companies have started to realize that employees are human first, and have started working towards employee wellbeing initiatives for the overall health of the organization.
While some work pressures are unavoidable, continuous unhappiness, dissatisfaction, and disengagement take a toll on employees' productivity and efficiency. According to WHO depression and anxiety disorders cost the global economy approximately US $1 trillion per year in lost productivity.
That is why many companies have started considering workplace wellbeing initiatives as a crucial part of their employee management strategy. In fact, the worldwide pandemic, and with it remote working, is a wake-up call for organizations to invest in employee wellbeing initiatives.
What is Employee Wellbeing?
When it comes to employee wellbeing, many employers focus on employees' health benefits. But employee wellbeing is much more than just the absence of physical illness among employees. It refers to the state of employees' physical and mental health and focuses on less tangible factors like their mood and cognition.
Although it may not be easy to always put employees first, this global pandemic has shown that it is not a choice anymore; it is an absolute necessity. That's the reason many organizations have started focusing on employee wellbeing programs. It helps them track wellbeing at work and create a conducive environment for their employees.
What are the Benefits of Investing in Employee Wellbeing?
Poor mental and physical health leads to low mood, poor concentration, difficulty with decision-making, and inadequate performance. When healthy, employees think more clearly, are more optimistic, and cope better under pressure.
Human Relations Theory suggests that greater employee wellbeing is associated with higher employee morale, which leads to higher productivity.
Not only that, by promoting workplace wellbeing initiatives, employers can attract more talent and retain existing ones for longer periods.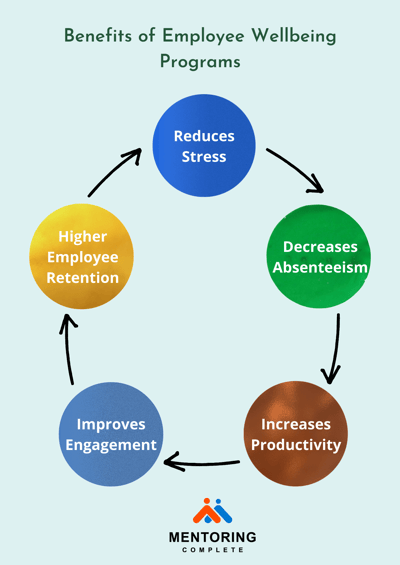 Also read: Make Millennials Love to Work for Your Company. Think Mentoring.
How to Promote Employee Wellbeing in the Workplace?
There are several staff wellbeing ideas that you can use to promote employee wellbeing in the workplace.
1. Make Recognition a Part of Your Company Culture
One of the easiest ways to initiate employee wellbeing is to recognize your employees for their contributions at work. A survey, conducted by SHRM, shows that 70% of employees say recognition makes them feel emotionally connected to peers. The impact of a recognition-rich work environment cannot be sold short.
Simply a "thank you" note or a few words of appreciation goes a long way.
2. Practice Mindfulness
Mindfulness means paying attention to the present moment in an accepting, non judgemental way. Various research has shown that mindfulness is a powerful way to reduce stress in the workplace and hence promote staff wellbeing.
Practicing meditation for just 10 minutes a day can improve one's mindfulness. Which, in turn, can reduce stress, improve sleep, metabolism, mood, and cognition.
So, why not give your employees a chance to build a long-term wellness practice?
Invest in affordable employee wellbeing programs and let your employees be mindful at work.
Also read: Effective Mentoring Strategies: Say Hello to Mindful Listening
3. Enable Continuous Learning
The value of continuous learning doesn't only increase knowledge and skillset among employees. It also increases employee satisfaction, makes the workplace more collaborative, and increases employee engagement.
Increased Employee Satisfaction: By highlighting continuous learning opportunities, you tell your employees that you care for their growth. This improves employee morale and ensures they feel happier in their current role. And when they feel happy and satisfied, their productivity increases.
Inspires a Collaborative Culture: When employees are encouraged to adopt continuous learning, it creates a collaborative environment. Instead of being apprehensive about making a mistake, employees and managers can proactively share critical ideas that benefit the company.
Increases Employee Engagement: Employee engagement is crucial at the workplace to keep them happy and satisfied. Sticking to one job at all times can become monotonous for your employees. Continuous learning gives them the chance to engage with others and be more productive.
4. Create Impactful Mentoring Program
Along with comprehensive benefits like medical coverage, dental coverage, and retirement policies, a mentoring program is a proven way to keep employees satisfied.
The health benefits of a mentoring program are as follows:
Emotional benefits: It provides a support system to the mentee during critical phases of their career. Mentors, on the other hand, get the satisfaction of imparting wisdom.


Supports isolation: Employees with mental health issues like depression and anxiety disorder often feel isolated. A mentor works as a support system for them.


Increases self-confidence: Although low self-esteem is not a mental health problem, increasing confidence in employees is a part of employee wellbeing initiatives. And a mentoring relationship helps increase one's self-esteem.


Mentoring encourages your employees to learn from each other and make them feel that their company is investing in their well-being.
Also read: 25 Benefits of Corporate Mentoring
5. Promote Mental Health Awareness
WHO says, more than 264 million people worldwide suffer from depression. This means, almost every workplace has few employees who suffer from mental health problems. And these issues wreak havoc on one's physical wellness too.
Often people let mental health issues go untreated due to social taboo and lack of understanding. However, if treatment options are advertised better and readily available, people in need may just take the plunge.
One of the best ways to promote employee wellness at your workplace is by offering mental health awareness programs and counseling for those suffering. You can talk to your company's healthcare provider or insurance company to offer employees mental health benefits.
Supporting employees' mental health is as important as ensuring their physical wellbeing. A happy and health workforce is essential for the growth of the organization. It is therefore imperative for leaders to create employee wellbeing programs at focus on overall health of employees. Moreover, it helps employees is building trust and loyalty towards their employers and they are ready to go the extra mile for fulfilling organizational goals.
If you want your workforce to be productive, engaged, and motivated, try incorporating these five staff wellbeing ideas to promote employee wellness at your company.