Editor's note: January is National Mentoring Month. To celebrate, we're featuring our own stories and experiences with mentoring. First up is a personal essay from our president and founder, Rene Petrin.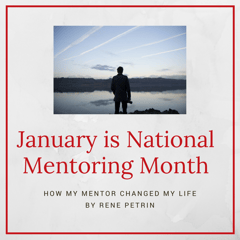 It was the early seventies, a time of uncertainty due to social unrest and changes that were sweeping the nation.
I was a young man working as a mail clerk in the health care industry. I had no real direction until I met a recent graduate who was an intern to upper management. We were similar in age and we shared similar ideas, so we ended up speaking a lot at work. We became work friends since we didn't socialize outside the office.
One day, he told me he'd recommended me for the recently vacated HR Director's position. I was stunned because I had no experience in HR, but he assured me that I would do a good job and that he would support me along the way.
Encouraged by his belief in me, I decided to take the job, a decision that changed my life's trajectory and led to a career that I could not have imagined at the time. I continued in HR for 12 years, earned a Master's degree in Psychology from Harvard, and eventually started Mentoring Complete, Inc.
Over time, my work friend and I fell out of touch, but a few years back, we bumped into each other at an event, and it felt like we were the same friends we were before. I'll always be grateful to him for what he did for me.
I didn't realize I was being mentored until much later when I began exploring the topic and had an ah-ha moment. Mentors change lives and my experience with my mentor is what led me to develop a passion for promoting mentoring in organizations.
Everyone should have a mentor at some point in his or her life. Look around you. Someone would be willing to mentor you. Go for it. Nurture it. It will be a life changing moment!