In honor of National Mentoring Month, I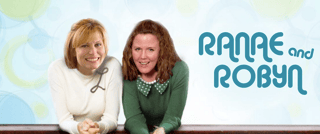 am pleased to share experiences I have had with a personal mentor of mine. My mentor takes the role of coach, confidante, teacher, cheerleader, friend and joker. Our relationship sometimes reminds me a little bit of two silly TV icons from the 70's. You know the ones…
ON YOUR MARKS GET SET AND GO NOW
Robyn Bradley, who works for Management Mentors' marketing team, unknowingly became my mentor when I was hired to work for MM six years ago. I had taken a ten-year sabbatical while raising a family. Re-entry into the work force proved that I was GREEN in so many ways. So many things in the business world had changed—namely—the web had changed EVERYTHING. While I was out attending playdates and preschool graduations, marketing folks were turning more and more to the internet to conduct business.
GIVE US ANY CHANCE WE'LL TAKE IT
When I applied for this position, the word on the job description that scared me the most was "blogging." I had the personality that Rene was looking for and a marketing and administrative background, "the skills will come," he said. Robyn took me under her wing. She spent hours upon hours "training" me and bringing me up to speed on all that I had missed over ten years. Before I knew it, I was blogging up a storm (the job description should have said "writing about a certain topic," then I wouldn't have been so scared).
NEVER HEARD THE WORD IMPOSSIBLE
Robyn sent me detailed instructions on every task that was assigned to me. She went above and beyond and not only sent me instructions, but talked with me for endless hours about the "why" we do things the way we do—so that I understood the goals and was not just executing tasks. With Robyn's guidance, I became confident and began making strategic marketing recommendations.
WE'RE GONNA MAKE OUR DREAMS COME TRUE
Robyn is an amazing writer; in fact, she's a novelist in her "spare time." I'd always loved writing and was inspired by her to finish my degree. So in 2012, I went back to school and graduated with a Bachelor's Degree in Marketing and English. While in school, I asked Robyn to review papers I had written and she did so without hesitation. She offered advice on how to make my work stronger, and again, talked strategically with me about it rather than just making corrections with a red pen.
AND WE'LL DO IT OUR WAY, YES, OUR WAY
I have confided in Robyn many times about certain business situations and she has always considered my requests with the same thoughtful and thorough approach that she used when training me in our early days together.
MAKE ALL OUR DREAMS COME TRUE, FOR ME AND YOU
The best part? Robyn and I are the same age. I wanted to point this out because it is important to know in mentoring that it is not always necessary to find a mentor that is older than you. In my case, Robyn had the experience I had missed during my time off (and then some). Robyn came along at the perfect time in my life. We learn together. We laugh together. We confide in one another. We share experiences. My mentor and me just may be the next Laverne & Shirley.