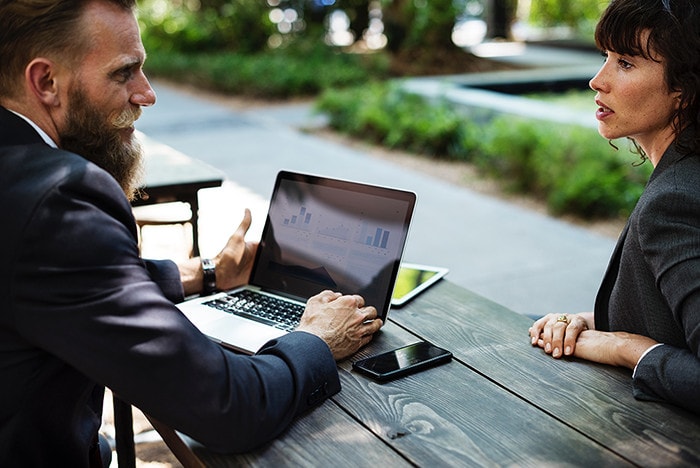 Mentorship and sponsorship both focus on the professional advancement of the employees. They focus on building strong relationships in an organizational setting, usually between an experienced employee and a junior employee. The purpose of both is to create a highly engaged workforce and help employees navigate through professional challenges.
Even though both mentorship and sponsorship are used as career advancement tools, their purpose and processes are quite different. Therefore, depending solely on one framework can limit employees' holistic development and offer limited results in terms of employee engagement and productivity.
By understanding the differences between mentorship and sponsorship, you can identify the right tool for your professional development at different stages of your career.
Also Read: Mentoring goals for inspiration
Mentorship vs Sponsorship
To understand the differences between sponsorship and mentorship, let us begin by looking at their definitions and then further develop them to contemplate how they affect the organization.
Mentorship: Unlocking The Potential
The CNBC/SurveyMonkey workplace happiness survey conducted in 2019 among a sample of 7,940 US employees reported the following:
9 in 10 workers (91%) who have a career mentor are happy in their jobs.
79% of workers with mentors are well paid in comparison to 69% of workers without mentors.
89% of workers with mentors feel that their work is valued by the organization in comparison to 75% of workers without mentors.
4 in 10 workers without a mentor have considered quitting their job in the past three months.
71% of workers with mentors said they get enough development from their employers, while only 47% of workers with mentors said the same.
Also Read: 7 common challenges in mentoring relationships
Generally defined as a traditional relationship between an experienced employee (the mentor) and a junior employee (the mentee), it encompasses offering guidance, advice, skills, and vision to the mentee. In a typical organizational setting, a mentor helps the mentee gain new skills and influences their personal and professional development. They act as a sounding board for the mentee and help them make career decisions and sail through tough challenges without losing sight of the organizational objectives.
A good mentor is someone who finds his or her passion and fulfillment in helping others reach their highest potential. They act as role models and help mentees establish a strong position in the organization by working on their decision-making skills. They help them set SMART goals, making them more accountable for their performance.
Mentorship is a two-way street where both the mentor and the mentee learn throughout the process and establish a long-term relationship. Mentors do not have to be in the same organization to successfully conduct their relationship. However, many entrepreneurs and successful business people have mentioned the importance of having a mentor working under the same roof.
Also Read: How to set mentoring goals?
Mentorship has proved to be highly effective in the hybrid working environment. As the pandemic blurred the lines between personal and professional space, most employees felt it was extremely difficult to cope with the changing business dynamics. Furthermore, loneliness and health-related concerns led to a steep fall in employee engagement levels. At that time, many organizations used mentorship to help employees stay resilient and connected during challenging times.
Sponsorship: Potential To Position
In a survey conducted by Payscale between December 2018 and May 2019 with over 98,000 respondents, the following were the findings regarding sponsorship in the workplace.
56.7% of respondents stated that they had a sponsor in the workplace.
Going by gender, 57.4% of men had a sponsor, while 56% of women did.
C-level executives (65.5%) and directors (63.1%) have the highest percentage of sponsors, followed by managers and individual contributors.
Going by race, Pacific Islander women (63.5%) and white males (62.5%) have the highest number of sponsors followed by Asian women, white women, and native American women. Hispanic (55.5%) and black women (55.3%) have the least number of advocates at work.
In an organizational setting, sponsorship is a relationship between a person of influence and authority in the organization and their protégé. A sponsor helps the protégé get recognition and opportunities for growth within the organization. Hence, the relationship exists within the organizational framework, unlike mentorship, which can exist outside the organization as well.
Also Read: How does a mentor sponsor a mentee?
The sponsor sees evidence of growth and opportunity in the employee and endorses them for their distinguished potential to achieve an elevated status in the organization. A sponsor usually has high status and an executive level position in the organization, and they use it to increase the visibility of the protégé and advocate for them.
A sponsor is someone who believes in your potential and gets personally interested in your development. They introduce you to their vast network of experienced professionals who have the power and position to make decisions in the organization. By doing so, they increase your visibility and give you a chance to share your skills and expertise with senior leaders and managers. They help model behavior and act as a driving force to fulfill the protégé's career vision.
But at what level do sponsorship programs in the workplace help? In junior positions, there are innumerable opportunities to excel by showcasing your skills and competencies. But as you move up the ladder, the positions are limited and you need someone to vouch for your skills. That is when sponsors come into the picture. They help employees with higher potential navigate through tough competition and find a place in the upper rung of the career ladder.
Also Read: How to promote employee wellbeing in the workplace?
Mentor vs Sponsor: Differences
Even though both mentors and sponsors have the same impetus, that is, to see the employees excel in their career, the approach they follow is quite different. Mentors are guides who push mentees to achieve their highest potential by imparting them with skills and knowledge.
On the flip side, sponsors look for zealous employees with high potential and advocate for them to get better positions. Thus, it is quite clear that mentors provide the driving force needed to excel, and sponsors help such employees to scale up the ladder faster. Let us further understand the differences between a mentor and a sponsor.
Mentors are often people with a high level of experience and knowledge, while sponsors are high-level executives that can vouch for the protégé.
Mentors suggest ways to expand the network and connections of the mentee, while sponsors include the protégé in their network and introduce them to decision makers.
Even though both mentors and sponsors are personally vested in the development of employees, sponsors have a lot more at stake than mentors. They use their power and reputational capital to make a protégé successful, and if they fail to deliver as per expectations, it can have a negative impact on the sponsor's reputation.
There are multiple ways to find a mentor. Most organizations are now moving towards formal mentoring programs to create a skilled workforce, but only a handful of organizations have employee sponsorship programs.
Mentors may or may not be from the same organization, but sponsors work actively with the protégé.
It is easy to find a mentor through professional mentoring programs, whether inside or outside the organization, but finding a sponsor is quite challenging. It requires an employee to build trust with the sponsor and showcase continuous achievements in their job role. Furthermore, employees have to be vocal about their career goals and raise their hand to get exposure opportunities.
Mentors help mentees in both personal and professional development, while sponsors are only concerned with the professional advancement of the protégé.
Mentorship in the same organization can be cultivated into sponsorship, but the opposite is not witnessed in an organizational setup.
Also Read: Why mentoring women in the workplace is more important than ever?
Mentorship And Sponsorship: Their Importance In The Workplace
Mentorship and sponsorship are both extremely important in the workplace.They help develop employees into a dynamic, skilled, and focused workforce that is ready to take challenges head on. Organizations that scale and utilize both the frameworks effectively can create massive returns in terms of human capital and client acquisition and retention. Let us look at some of their organizational benefits in detail.
Creating Future Leaders
The efforts of both mentors and sponsors are focused on creating leaders and visionaries that can lead organizations to growth despite all the challenges. By investing in the right talent, organizations can retain, develop, and grow their employees effectively.
Mentorship and sponsorship help assess the current development strategies used by the organization and suggest improvements based on the changing business dynamics, competition level, employee turnover, and organizational goals.
Also Read: What the qualities of a good mentor?
Opportunities For Women And Underrepresented Groups
Women of color account for only 4% of C-suite positions globally (Women in the Workplace, McKinsey)
Women and various underrepresented groups face enormous challenges during their entire career. In a male-dominated business world, it is quite difficult to find the right opportunities and have someone vouch for you for that higher position. There are a lot of gaps in the process of career progression where women, particularly of color, and other groups lose ground in representation at the very first level.
There is no doubt that organizations that support women and underrepresented groups are more innovative, adaptive, flexible, and even profitable. That's why multiple companies throughout the world have started mentoring and sponsorship programs to help women and underrepresented groups develop and advance in their careers.
Want to set up mentoring goals for your organization? We've got your back!