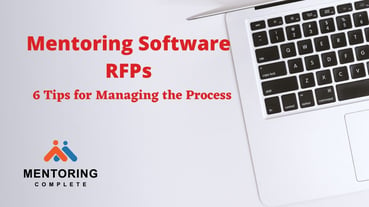 Developing (and evaluating) a mentoring software RFP may seem daunting, but it doesn't have to be. Check out these suggestions to make the process more manageable.
1. Do your mentoring homework
How much do you really know about mentoring? A good understanding of different mentoring programs, mentoring roles, and training will give you a strong foundation about the information you want to capture from your vendor and an understanding of the response. Some questions you may want to consider:
What are your company's mentoring objectives?
What type of solution is ideal for streamlining the process?
What types of mentoring program(s) would you like to implement that would best match your company's mentoring goals (managed, group, self-directed, etc.)?
How much do you know about the different mentoring roles (i.e. mentor, mentoree, program manager)?
Will you offer mentoring training to participants? If yes, how? In person? Through an online mentoring course? Something else? It's important to include this in your RFP, since some vendors might offer training options.
2. Make your organization's goals clear and straightforward
Keep in mind that vendors responding to your RFP need to have a solid understanding of your organization and mentoring objectives. A well written RFP defines your company's goals and outlines specific requirements. At the same time, you are providing a framework for vendors to submit their capabilities, costs, and expectations in a format that allows you to understand, evaluate, and choose the best solution.
3. Compare the same functionalities for each mentoring product you are considering.
Yes, we're talking about the infamous "compare apples to apples" adage. By prioritizing and categorizing your list of requirements, you are putting all of your vendors on a level playing field so you can properly evaluate which product meets your needs and budget. By NOT explicitly defining your needs, you are leaving yourself open to misunderstanding vendors' offerings and price discrepancies.
4. Keep in mind that one size doesn't fit all
You need to figure out what your organization wants to accomplish and what you need to be successful. Different companies will require different mentoring models. State the type of mentoring program (or programs) you hope to implement (e.g. managed, group, self-directed) in your RFP.
5. Not all mentoring solutions are the same
Some products may be limited to only matching. Other mentoring software is more
comprehensive and may include recruiting and monitoring. On the flip side, some may be more coaching based which is not a true mentoring model. You may want to create a structured document listing your needs – maybe have two lists: must haves and nice to haves.
6. Get to know the vendors in the industry and their respective products before submitting an RFP
Don't wing it. Practice due diligence. To be blunt, there is no reason to ask for an RFP if you haven't gathered information about each vendor's company, products, and service offerings to ensure an accurate assessment process that leads to choosing the best solution. Some strategies:
Read the company website
Download relevant thought papers
Request product demonstration(s)
Read the blogs
Sign up for newsletters
Check out product reviews
Determine if the company is financially sound
Speak to customers