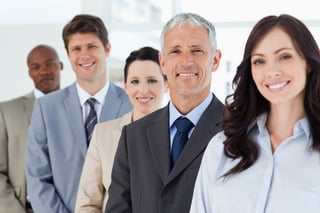 Senior executives are leaders not only within their organization, but also within the larger business community. Placed in the highest positions within their companies, their daily actions can dramatically affect our families, our communities, our country, and the world.
We often view teachers, doctors, and others as being critical to our well-being as a society. We should view business executives the same way. Business executives have a tremendous wealth of knowledge, expertise, and experience that, when passed on to others, can help us learn from the past, plan for the future, and prepare tomorrow's leaders.
So how do we help business executives share their knowledge with the next generation of great leaders? That's where executive mentoring comes in.
What is Executive Mentoring?
Executive mentoring is a strategic developmental relationship. It involves pairing an executive-level mentor with a less senior, but high-potential mentoree to assist in the development of the mentoree's high-level thinking, visioning, and leadership within the company.
Here are three other important aspects of executive mentoring:
Executive mentoring is different from traditional mentoring, where the focus is more on accomplishing tasks and acculturation. In executive mentoring, the focus is on strategic thinking and the development of knowledge to prepare the mentoree for senior-level responsibilities.
Executive mentoring helps transfer the executive's knowledge and experience, so it remains within the organization long after the executive has left the company. This creates an unbroken chain in the wisdom residing within the organization and avoids common pitfalls and mistakes that neophyte executives make when they lack this wealth of knowledge and information. It leads to a continuity of success, instead of taking the usual haphazard approach to promoting.
Executive mentoring combines the old and the new. With executive mentoring, the voice of experience (mentor) and the voice of new ideas (mentoree) come together. In the exchange that occurs, a synthesis is achieved that keeps the organization alive and better prepared for the future, while retaining its solid foundation from the past.
Introducing Our New Online Course: Executive Mentoring 101
Executive mentoring, as you can imagine, requires additional training and insight—especially for the executive mentor. We've created an e-learning course that will help the executive mentor understand their role, how to mentor high-potential employees, how to facilitate instead of manage (a common pitfall), and how to transform instead of clone.
The course also dives into 10 core competencies that we recommend executive mentors master (or, at the very least, have a solid understanding of) before they embark on a mentoring relationship.
The course is available online. All you need is Internet access and some quiet time to delve into and digest the lessons.
Learn more about the course and register for it here.