We choose our friends. We choose our significant others. So shouldn't we choose our mentors or mentees? Well, consider this matchmaking scenario: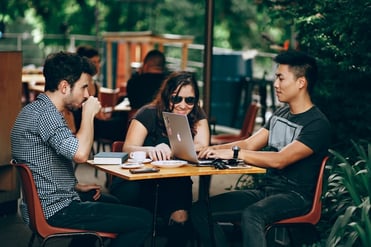 Roberta works in the marketing department of Company ABC, which promotes an appreciation for cultural diversity. Roberta is smart but also nervous about all the traveling she must do. She gets along well with Jane, the local sales manager. It's Jane's first job out of college, but she's worked her way from account executive to local sales manager in just two years. Roberta and Jane are the same age, share similar values, and have great chemistry. Jane would like to mentor Roberta, and Roberta agrees. After all, the two are friends and often socialize with one another.

Wouldn't this be a great match?

Not necessarily.

A mentoring relationship shouldn't be a friendship in disguise. Instead it should be a purposeful match made by the program manager-a person who won't base his or her decision on the "friendship status" of the mentor and mentee, but rather on whether the two can benefit from working together for 9-12 months.

Remember, the benefits of friendship (e.g. having someone to socialize with) are different from benefits you get when you're in a mentoring relationship.
The Mentoring Relationship-Benefits to Mentors
Gaining insights from your mentee's background and history that enhance your professional and personal development
Gaining satisfaction in sharing your expertise with others
Re-energizing your career
Learning more about other areas within your organization
Building a relationship with someone outside your area and thus increasing your networking within the company
The Mentoring Relationship-Benefits to mentees
Gaining invaluable knowledge and insights from your mentor's expertise
Receiving critical feedback in key areas, such as communications, interpersonal relationships, and technical abilities, so you can improve
Developing a sharper focus on what you need to grow professionally
Learning specific skills that are relevant to professional and personal goals
Networking with a more influential employee who can broaden your reach within the organization
Also read: 7 Common Challenges in Mentoring Relationships
Let's go back to our example. Since this is Jane's first job out of college, she doesn't have the career background that a more senior employee might have. And while sharing values might seem worthwhile, it's often the people with different values and ideas-the ones who make you consider all viewpoints, not just your own-who have the biggest impact on your life.

So consider this scenario instead: The program manager matches Roberta with Soleil, an engineer who has been with the company for 10 years. Soleil hails from Paris and is fluent in French, English, and Chinese. Before working for Company ABC, she worked for a start-up company in Europe, and before that, she taught English in China.

This match makes more sense when considering the company's goals for its mentoring program, the mentor's background, and the mentee's needs.

While there's no guarantee that all your matches will be successful, they stand a better chance when an informed "matchmaker"- i.e. the program manager-is involved.
Check out our FREE white paper specifically for mentoring program managers by clicking the button below.