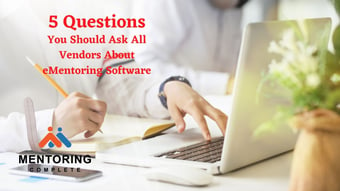 Way to go! You've made the decision to invest in e-mentoring software for your business. To find out which vendor stands out, ask each one the following questions.
1. Is your mentoring software customizable?
Every company has unique needs, so the solution you choose must be able to meet them. Oftentimes, this requires customization.
What to look for in an answer: Bottom line—the answer should be yes. As to degrees of customization, make sure, at the very least, you can…
Easily configure the system to meet your objectives (e.g. managed program, group program, self-directed, or hybrid approach)
Modify existing forms
Create new forms
Double check pricing. Certain customization requests might come with an additional price tag.
2. Does the vendor have a background in mentoring?
Consider vendors who do more than simply develop software. Ideally, you'll want to have ready access to a mentoring expert—someone with an excellent reputation who has been in the game a long time.
What to look for in an answer: Is the vendor simply interested in selling you a piece of software? Or is the vendor interested in collaborating so that you develop the most effective mentoring program? And does the vendor have the expertise to help you accomplish this?
While there's nothing wrong per se with choosing a vendor who simply manufactures mentoring software, you'll get much more out of the software if you work with a vendor who has a strong background in mentoring.
3. What about scalability?
Before you sign on the dotted line, find out if the mentoring software can easily adapt as your organization's needs change and/or as your mentoring program grows.
What to look for in an answer: The vendor should share examples of how companies of different sizes are using the software. You may want to speak to a customer with a system that has substantially grown over time. See our mentoring case studies for examples.
4. How stable is your system?
Ideally, it should be available at all times. However, that's probably not realistic. Inquire about the number of times the system has gone down in the past year and for how long. Find out why and how quickly the problem was rectified.
What to look for in an answer: There's no such thing as a perfect mentoring software. Be wary of any vendor that claims perfection. Instead, look for transparency. Vendors shouldn't shy away from tough questions. Learn how they troubleshoot problems. This might be a good time to chat with technical support personnel to get a feel for them.
5. Does your mentoring software provide a training component?
There's more to mentoring than you might think. Program managers, mentors, and mentorees need guidance, especially in the beginning.
What to look for in an answer: Vendors should automatically provide training on the software itself. But the best vendors will also offer training on the mentoring concept. Training could be on-site, online, or a combo approach. Note: once again, make sure you clarify costs since certain levels of training might increase the price tag. Check out the budget-friendly online mentor training we make available to everyone (whether they use our software or not).
Do you have any query about our e-mentoring software? We are happy to help you! Contact us.
Do you want to give Mentoring Complete a try? Request a Demo!